Interested in this product?
Send Request for Quotation
*** Most affordable and Best Telescope for Planets !!!
Don't miss Planet Mars in 2018 (best view since 2003)
OUT OF STOCK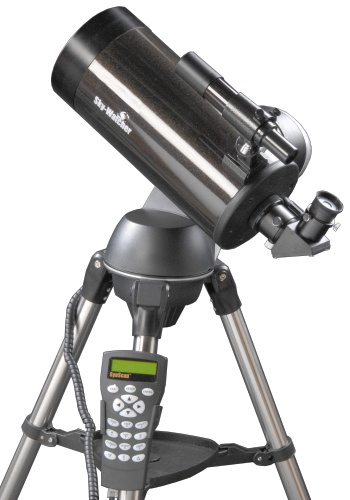 This is a highly compact computerized telescope based on Maksutov-Cassegrain design. This design is well known for sharp and contrastly image, highly suitable for planets. With primary mirror diameter of 127mm, it is large enough for even deepsky objects such as nebulae, star clusters and galaxies. And it is light weight and highly portable.
The skyscan hand controller enable you to find over 42,000 objects effortlessly without even looking at your star chart.
Telescope Features
* Includes 2 1.25" eyepieces to give you 60x and 150x magnification
* Mirror Diameter : 127mm
* Telescope Focal Length: 1500mm
* 6x30mm finder scope
* 90 deg Star Diagonal
* SynScan AZ GT hand controller
* Stainless steel tripod
AZ GOTO Features
* Over 42,900 objects database
* Alignment Method: Two star or bright star alignment
* Pointing accuracy enhancement (PAE)
* Pointing Accuracy: 10 arc min
* Tracking rates: Sidereal, Solar and Lunar
* Slewing speed: 1.0x, 2.0x, 16x, 32x, 128x, 400x, 500x, 600x and 800x
* Tracking Mode: Dual Axis
* Quiet Operation
* Motor Type & Resolution: DC servo motors, 0.8923 arc sec resolution
* PC compatible
* SynScan Handset Firmware upgradeable
* Power requirement: 12V DC or AA batteries (not supplied)
USUAL PRICE: RM2950
OFFER PRICE: RM2550
Free shipping within Peninsular Malaysia !!!