Interested in this product?
Send Request for Quotation
NEW STOCK ARRIVES!!!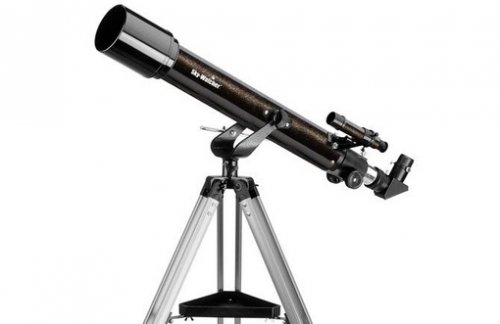 SK707AZ2
AVAILABLE NOW IN BLACK METALLIC TUBE!
This is our lowest priced telescope at only RM645!!!
With this scope, you can see craters on the Moon, ring of Saturn and much more. NO KIDDING!!!


- Diameter/Aperture: 70mm
- Focal Length: 700mm
- Multi-coated achromatic objective lens
- Aluminum tube
- Dew cap/Sunshade
- 6x24 finderscope
- 36% greater light gathering capacity than
traditional beginner 60mm scope
- Smooth rack-and-pinion 1.25" focuser
- Wall-to-wall accessory tray
- Pre-assembled tripod for convenient and quick assembly.
- Good resolution of the Moon and planets
- Highly affordable, perfect for beginners
- Sturdy but light weight, easy to transport
| | |
| --- | --- |
| | Recommend for: FIRST TIME BUYER |
* FREE!!! Shipping via SKY-NET within Peninsular Malaysia. Item will be shipped usually within 24 hours upon receipt of payment.