Interested in this product?
Send Request for Quotation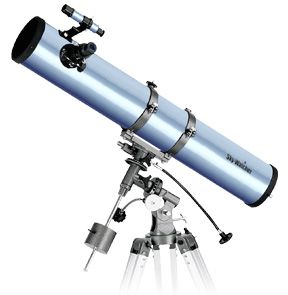 PRICE RM895
(OUT OF STOCK - SK1145EQ1 in stock)

If you are looking for largest light gathering capability for the cheapest price, this is the scope.
SK1149EQ2 is a 114mm diameter reflector telescope, which means that it gathers 165% more light than a 70mm telescope. It comes with two eyepieces for low and high magnification.
For superior stability, it is equips with an equatorial mount, capable of tracking objects across the sky either manually or with additional motor.
- Diameter/Aperture: 114mm
- Focal Length: 114mm
- Aluminized and overcoated mirrors
- 5x24 finderscope
- 125% more light than 76mm and 165% more than 70mm refractor
- Long focal length allows good viewing of both high and low powers with different eyepieces - Smooth rack-and-pinion 1.25" focuser

* For mail order, please add RM110 for shipping and handling. Shipping is via POSLAJU. Item will be shipped usually within 24 hours upon receipt of payment.