Interested in this product?
Send Request for Quotation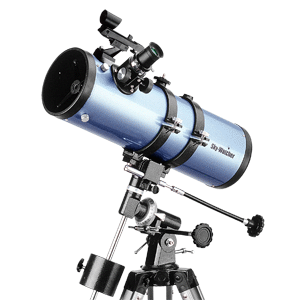 PRICE RM995
New stock arrives!!! Now comes with nice black metallic tube.
BKP1145EQ1
This scope offers the same aperture with SK1149EQ1, but comes in shorter tube. This make the scope the most portable scope for star gazing.
- Diameter/Aperture: 114mm
- Focal Length: 500mm
- Aluminized and overcoated mirrors
-Diffraction-limited secondary mirror support
-Paraboloidal (parabolic) primary mirror
-Red Dot Finder for easy locating of celestial objects
- 125% more light than 76mm and 165% more than 70mm refractor
- Smooth rack-and-pinion 1.25" focuser
- 114 primary mirror collects enough light to reveal a wealth of celestial objects
* For mail order, please add RM90 for shipping and handling. Shipping is via POSLAJU. Item will be shipped usually within 24 hours upon receipt of payment.
Copyright © 2008 Perseid Sdn Bhd.By Trilobyte