Interested in this product?
Send Request for Quotation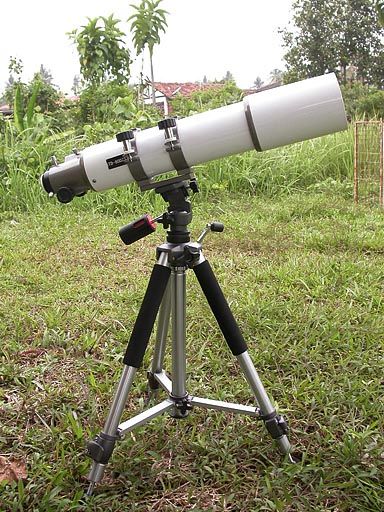 Perseid 80mm F7.5 Achromat Refractor
This refractor offers several added feature compare to the other similarly priced 80mm refractor in the market.
Retractable dewshield - the first time a budget refractor is offered with this feature. With the dewshield fully retracted, the scope measures only 19.5 inches, well suitable to be hand-carried into an airplane.
Longer F-ratio - a longer F ratio of F7.5 means the scope exhibits lesser chromatic abberation compared to the shorter ones.
Tons of accessories included - it comes with 6x30mm finderscope, 25mm and 10mm 1.25" eyepieces, a diagonal, 2x barlow and extender tube, if you need to observe an extra close object.
The telescope comes with an extra heavy duty camera/video tripod. The telescope is excellent for bird-watching. For astronomy uses, we would recommend that you get the EQ mount too.
PRICE
80mm F7.5 telescope on photo/video tripod RM1295
For astronomy use, an EQ3-2 mount is recommended. The mount is priced at RM1395.