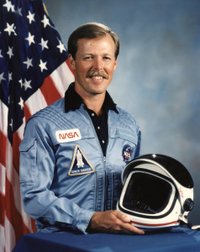 If you have not met with a NASA astronaut before, then this may be your only opportunity.
Robert Gibson will be coming to Penang next week. You may have seen him during the live telecast of Malaysian Astronaut flying into orbit.
He will give a public lecture on manned space exploration. Here are the details.
Date: 18th October 2007
Time: 9.30am
Venue: Lecture Theater A, University Science of Malaysia
You can find out more information of him from the internet such as
http://en.wikipedia.org/wiki/Robert_L._Gibson
For more information, please contact Dr. Chong 016-3157318 or CK Lim 012-4317980