Interested in this product?
Send Request for Quotation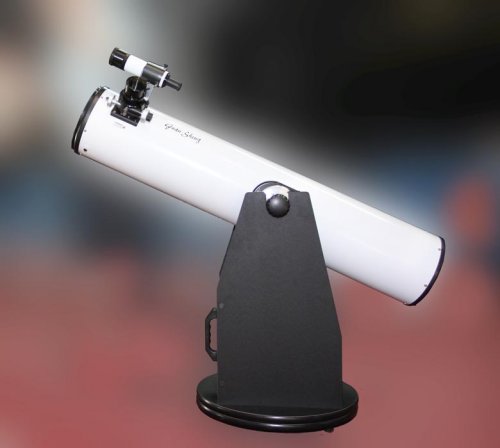 GSO 8" DOBSONIAN TELESCOPE
This is a great scope for those who enjoy stargazing but don't like to waste time setting up the scope.
Made by Guan Sheng Optical, this scope would enable you to see countless galaxies, star clusters, nebulae, planets and much more. With it's large 8" aperture, you can magnify up to 400x.
Unlike other dobsonian, it comes with friction bearing. This helps you to find object and keep the object centered without looking balance of the telescope. It also comes with one 2" eyepiece and one 1.25" eyepiece for high and low magnification.
2" Crayford focuser with dual speed 1:10 mirco-focuser is included for fine focusing, as well as large 8x50mm finder scope.
Specification:
* 8" Parabolic primary mirror 1/12wave
* Focal length: 1200mm, F/6
* 2" Precision Micro 10:1 Crayford style focuser
* 3 points mirror cell w/cooling fan.
* Roller bearing wood base
Standard accessories:

* 8x 50mm fully multi-coated achromatic Finder
* Premium Plossl 9mm (1.25")
* Premium widefield SP30mm (2")
* Eyepiece Plate
PRICE: RM2500