Interested in this product?
Send Request for Quotation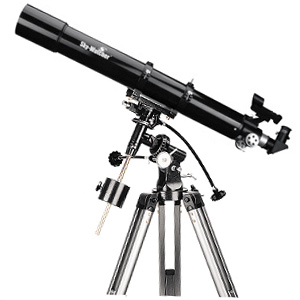 This scope is a shift up from BK705AZ3. The objective lens is a large 90mm in diameter. That means 65% more light gathering than the 70mm model. Objects will appear brighter and you can achieve higher maximum power. The mount is a robust EQ2 that comes with slow motion control. When properly setup, you can track an object across the sky manually with ease.
Lens size: 90mm
Focal length: 900mm
Max power: 180x
Finder scope: 6x30mm
Mount model: EQ2
Eyepiece: 25mm and 10mm
(You are recommended to purchase optional accessories such as 2x barlow, 40mm eyepiece etc)
Price: RM1495 Promotion Price: RM1195!!
(Limited time only)
Shipping is FREE within Pen. Malaysia via sky-net courier service.
Note: The above image is for illustration only. Actual colour and accessories that comes with it may be different.