Interested in this product?
Send Request for Quotation
8 inch Reflecting Telescope on EQ5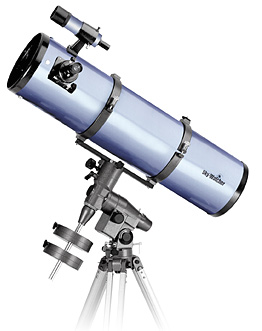 This is a great telescope for astronomy. You can view planets with great detail at up to 400x magnification. Countless of deep sky objects are within reach with its large 8 inch parabolic mirror. It comes with a heavy duty precision EQ5 mount. When couple with optional dual axis motor, it is capable of automatically track object across the sky. You can use it for long exposure photography.
Mirror Diameter: 200mm
Focal Length: 1000mm
Finder scope: 8x50mm
Focuser: 2" with 1.25" adapter
Mount: EQ5
Eyepiece: 25mm and 10mm
Price: RM3495
Limited Time offer: Shipping is FREE within Pen. Malaysia via sky-net courier service.
Note: Image above is for illustration only. Actual product may differ.
Copyright © 2008 Perseid Sdn Bhd.By Trilobyte