Interested in this product?
Send Request for Quotation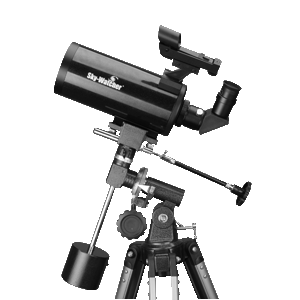 SK90MAKEQ1...... RM1295 (add RM90 for S&H)
(OUT OF STOCK)
Note: We have sk80make1 available. It comes with same accessories but the aperture is 80mm instead of 90mm. Price is RM995.
The Sky-Watcher Maksutov-Cassegrains are the ultimate take-anywhere telescopes. They are also ideal if working space is limited. Despite their small dimensions they pack a powerful punch. Their High-Resolution, diffraction limited optical systems are multi-coated to maximize contrast and image sharpness. This Sky-Watcher Maksutov comes in apertures of 90mm, and is available complete with equatorial mounts and tripod. It can also be mounted onto a standard photographic tripod. Whether your requirement is for terrestrial or astronomical use, these compact scopes are the perfect companion.
It will also make a powerful spotting scope for birders!
Tube material: Aluminium.